The Belgian startup scene is blooming
In January 2019, Belgian data governance startup Collibra raised $100 million, joining unicorn club. Founded in Belgium and now based in New York City, the company has raised a total of $233 million in venture capital. The latest round was led by CapitalG and included funding from previous investors Iconiq Capital, Index Ventures, Dawn Capital, and Battery Ventures.
Our team has identified 42 Belgian companies who raised funding the U.S. which rises up to 76 if we include those which flipped their HQ to the U.S. along the process. You will find an extract below and notice the strong focus on SaaS, Fintech, Health and Biotech. Belgian biotechnology companies accounted for 16% of Europe's turnover and almost 10% of R&D expenditure.
| | |
| --- | --- |
| Company | Categories |
| Collibra | Artificial Intelligence, Data Integration, Enterprise Software, Infrastructure, SaaS |
| Showpad | Analytics, Content, E-Learning, Marketing Automation,Meeting Software, SaaS, Sales |
| iSTAR Medical | Health Care, Manufacturing, Medical Device |
| Euroclear | Asset Management, Finance, Financial Services |
| AgroSavfe | Agriculture, AgTech, Biotechnology |
| Sentiance | Artificial Intelligence, Internet of Things, Machine Learning, Predictive Analytics |
| Guardsquare | Developer Tools, Internet of Things, Mobile, Security |
| Rydoo | Finance, FinTech, SaaS, Software |
| NGDATA | Analytics, Big Data, CRM |
| Unifly | Aerospace, Drones, Mobile Apps, Navigation, Robotics, Smart Cities |
| Clear2Pay | Finance, FinTech, Payments |
| Silverfin | Accounting, Digital Marketing, Financial Services |
| Deliverect | E-Commerce Platforms, Food Delivery, Hospitality, Online Portals, Restaurants, SaaS |
| Promethera Biosciences | Biotechnology, Pharmaceutical, Therapeutics |
| icometrix | Clinical Trials, Health Care, Hospital |
| LindaCare | Health Care, Hospital, Wellness |
| Ablynx | Biopharma, Biotechnology, Pharmaceutical |
| Cashforce | Analytics, Finance, FinTech |
| ITeos Therapeutics | Biotechnology, Health Care, Medical |
| Confo Therapeutics | Biotechnology, Medical, Therapeutics |
The European Start-up Survey conducted by PwC shows that a massive 90% of Brussels-based start-ups rate their city as a great place to do business, where 87% commend the excellent IT infrastructure and start-up coaching offerings. With this result, Brussels tops innovation centers like Paris, Berlin and London Because Brussels is the center of European decision-making, many startup resources are available, it's easy to reach out to corporations or policy makers, especially if you plan to run a business with a European focus.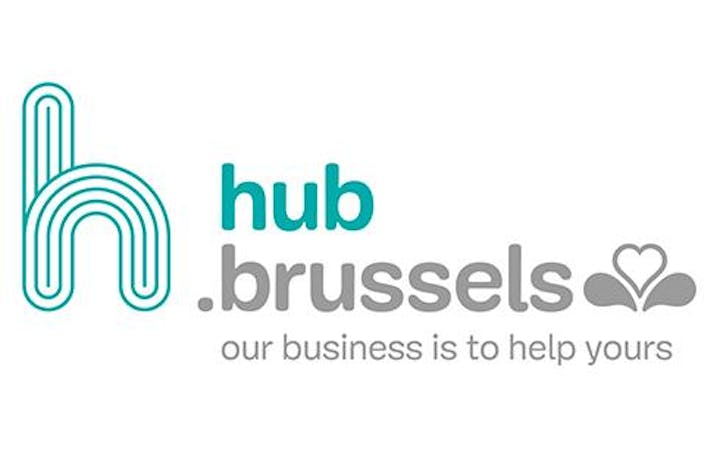 Hub.Brussel's 5th Entrepreneurs Pitch Night
To celebrate the vitality of this ecosystem, October 3, 2019, Hub.Brussels is organizing its 5th Entrepreneurs Pitch Night at The Vault SF, in the heart of the historic Jackson Square neighborhood in San Francisco. Belgian startups will pitch their business to a group of hand-selected jury members. big bang factory is humbled to be part of the jury and support the Belgian ecosystem and startups.
STARTUP COMPANIES
APPTWEAK is a power ASO Tool driven by Data science. Everyday, we empower marketers to audit, optimize and monitor their mobile app performance. Everyday, we gather reliable data and leverage data science to highlight vital metrics and actionable insights. Ever yday, we strive to build the most accurate, transparent and easy-to-use ASO Tool
HIMETA has developed a patented cryptographic application to increase digital content traceability. Music ownership data is volatile and does not always reflect the truth, hindering the rights redistribution. The soundwave of a recording is the only element that remains unchanged throughout the whole value chain. HIMETA improves music data management by putting the soundwave at the center of the ownership identification process. The soundwave itself becomes the unique, stable and permanent key to access ownership data, helping creators, producers, rights management societies, broadcasters and digital service providers to exchange efficiently the information required for the commercial use of music.
WOOFLASH BY WOOCLAP is a web platform providing intelligent flashcards to enable professors to measure the level of understanding and knowledge of their students. It improves memorization and offers personnalized study content. With Wooflash you study faster, wherever you want, whenever you want.
AGEIFY offers a reliable age verification mechanism that can be used to control access to online resources. It includes a mobile app, which allows users to prove their date of birth, using a reliable Identity Provider (e.g. a bank, a telecom operator, etc.). Each time you wants to access an age-restricted website, compliant with AGEify, you can simply use your fingerprint or type a short PIN to prove your age, without revealing any other personal information. AGEify your website and add an extra layer of protection against liability, while protecting minors from age-restricted content, products and services
ASAS by Rayons an "insurtech" product that installs intelligent detection systems which link to the contract you hold with your insurance provider. Think of an intelligent smoke detector or carbon dioxide detector whose data points are linked up directly to your home insurance or a burglary or auto theft occurs, and it connects to your auto and renters insurance. Our goal is to use modern technology in IoT and mobile applications to provide insurance solutions that are better adapted and connected to consumers and clients.
JURY MEMBERS
ROGER KING has been a leader in the recruitment field for over 28 years as CEO of ChiefPeople. Since1989 he's been assisting early stage Bay Area companies which led him to his founding of Bay Angels in 1998. Bay Angels supports early-stage companies with their seed funding. One of its earliest successes was OpenTable. Roger has been published in Forbes and Fortune magazine and appeared on CNN News.
SYLVIA GALLUSSER has been consulting with 500+ tech companies for the past 15 years, starting as an IT consultant at Accenture, launching the Impact USA accelerator with Business France, and leading funding access programs at French Tech Hub. Today she advises on go-to-market strategy, sales process, and funding access as a Founding Partner with the big bang factory.
JEFF WALLACE is founder of Global Kinetics, a market development accelerator to early-to-mid stage clients seeking to establish/expand operations in the US market & a long-standing enterprise mobility industry veteran. He is a Co-Founder of Silicon Valley in Your Pocket (SVIYP), a mobile & online platform that allows global entrepreneurs to access Silicon Valley content, coaching & connections as they build viable businesses. In addition, he is a Co-Founder of HubSV, a Silicon Valley style international training & mentorship company. He is a Founding Investor of Batchery, a global incubator for tech startups.
RONALD WEISSMAN is an experienced venture capital and angel investor, focused on AI/machine learning and analytics. He is Member of the Board of Directors with the Angel Capital Association and Chairman of the Band of Angels Software Industry Group. He has more than seventeen years in global venture capital and twelve years in angel investing. His key focus is in angel and entrepreneurial outreach to startup hubs worldwide on investing in AI and best practices in angel investing.
Register to Hub.Brussel's 5th Entrepreneurs Pitch Night.